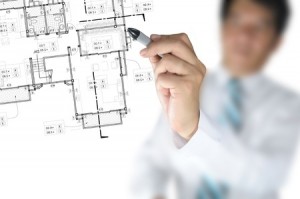 LED lighting technology is more functional, efficient, and longer lasting than ever before.   Many architects, builders, business owners, home re-modelers, and homeowners, are now using LED's as the standard when it comes to incorporating lighting.
Working With An Architect For LED Lighting Design
Architects are highly trained to help create a design that incorporates beauty, engineering, and ergonomics.  Some architects are true artists when it comes to incorporating lighting.  It's not easy to interpret how light will operate in certain environments, however, an architect, especially one who has specialized in light design, will be able to perceive what type of lighting will work best in different situations, and effectively communicate those designs with both words and drawings.  Architects understand how very important lighting is in the overall project design, for both home and business.  Not all projects require an architect, but for bigger projects, they are well worth the consulting fees.  To help in the design process, KLUS has a free product catalog available for download here.  This informative catalog shows examples of how KLUS LED extrusions can be incorporated into the design of any home or building.  The catalog also includes detailed drawings and product specifications for each product with installation instructions.
Working With A Builder
Not all homeowners can justify the added costs involved with hiring a special architect or lighting consultant.  This does not mean that LED's can't still be utilized in a beautiful and functional way. Working directly with a builder or contractor can save money and still result in the the creative use LED lighting through the home. Builders may not always provide the same cutting edge or artistic approach to lighting as a lighting specialist or architect might, but to be fair, they are professionals, and very good at incorporating efficient and logical solutions.  The goal of any good builder is to make their clients happy, and if they understand the needs and wants related to lighting, they will be able to incorporate those ideas into the home design and budget accordingly.   Again, the KLUS product catalog will be a valuable resource to help the builder forward the necessary specs and ordering information to the electrician.
Don't Settle For The Ordinary
There is really no question that LED's are the future of lighting.  But one does not need to settle for simply using an LED bulb in the old fashioned traditional light fixtures of the past.  By working with your architect or builder, to incorporate KLUS's LED lighting strips together with our LED mounting systems, any living area can provide an absolutely incredible and beautiful lighting design.    Contact us for more information or click here to find a distributor in your area.