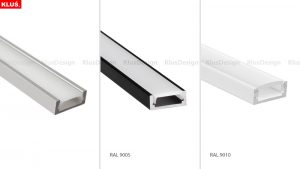 The Micro ALU LED Tape Light housing is referred to as "Universal" because it can be used to illuminate just about any area in a home or business. The shallow housing of the MICRO ALU is made for flexible or hard LED tape strips that are 8-10mm wide (0.39"). At just 6mm in height, this slim design allows for LED lighting to be added to areas other lighting technologies would not fit.
It can add a beautiful and functional light to furniture, cabinets, closets, stairs, shelving, exhibits, advertisements, display cases, desks, niches, ceilings, and much more. This LED fixture can also be assembled to be IP67 waterproof, to be used in outdoor architectural or landscaping applications.
The MICRO ALU is made from high-quality aluminum (also available in black double-anodized). Available cover options: covers KA-BIS, HS (frosted or clear), LIGER (frosted matte) or clear focusing cover- S, which makes it possible to obtain a 60 degree light beam angle.
Covers are made of polycarbonate and, additionally, HS covers are certified for excellent resistance to all weather conditions. Standard polypropylene end caps, electricity-conductive end caps and mounting brackets (made from steel with zinc or chrome finish) are used for the extrusion as supplementary accessories.
Click Here For Ordering Information, Installation Diagrams, Technical Specifications, & More!