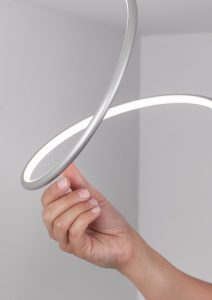 KLUS designers are always busy designing new, streamlined, cutting-edge lighting solutions for our clients. Our LED lighting extrusions and accessories blend beautifully with the architectural details, furniture, or features of any area of living or workspace. The look, feel, integration, and functionality, that our LED lighting products provide are difficult, if not impossible, to achieve with old-style bulky light bulbs and fixtures.
Take A Look At Our PIKO-O Extrusion
One of our newest LED lighting extrusion is the PIKO-O. This fixture is a very small round extrusion dedicated to be suspended with the use of electricity conductive end caps. The PIKO-O is compatible with 0.19″/ 5 mm wide LED strips, and is available in silver or black.
If you would like to learn more about how to integrate KLUS LED lighting systems into your home or business, please contact us or one of our representatives in your area!