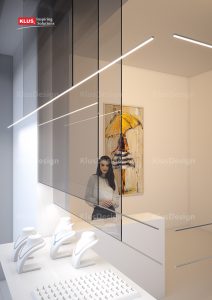 At just about 1/4 inch tall and wide, the new PIKO LED lighting extrusion from KLUS offers the perfect way to create small, delicate, and beautiful LED lighting fixtures perfect for cabinets, glass-cases, or decor.
The PIKO extrusion can be assembled to be waterproof with an IP rating of IP67, so that it can be used to add beauty and light to outdoor applications including gardens, home elevations, unique architectural elements, driveways, landscaping, and more.
The PIKO LED lighting extrusion is made from high quality, double-anodized aluminum, designed for LED strips that are 5 – 6 mm wide. The available frosted PIKO cover is made of polymethyl methacrylate. Standard end caps are used for the extrusion as supplementary accessories.
This LED extrusion can be mounted to surfaces with the use of double-sided adhesive tape, mounting glue or screws.