The Statue of Liberty has long been a symbol of freedom and independence for people in the United States and other countries. Today, people can be found touring the area, taking pictures, and standing in awe at the incredible monument. In the past, many people have immigrated to the USA looking towards Lady Liberty as a beacon of hope for a better life and future. Now, that beacon will be even brighter! A new LED lighting system was set up on the grounds surrounding the Statue of Liberty, and will be activated on Tuesday night, July 07, 2015.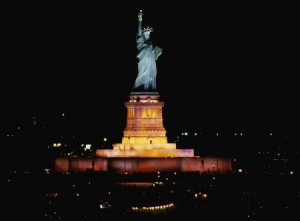 Superintendent of Statue of Liberty National Monument and Ellis Island, John Piltzecker, stated, "The good lighting practices that have been initiated will result in energy efficiency and enhance the experience of millions of people who view Lady Liberty from New York Harbor in the evening hours." The Statue of Liberty is quite impressive in the daylight, but at night, the monument is simply awe-inspiring. Therefore, the lighting system below the statue is very important. It allows the light and shadows to emphasize details, helping to create that breathtaking view that so many look to for courage and a reminder of their freedom. The new lights are also said to be more energy efficient, significantly lowering energy consumption.
Light emitting diode lights, or LED's, have become a very common form of lighting, as they are ecologically friendly, operational in extremely hot or cold weather, and have much longer lifespans than regular incandescent and fluorescent light bulbs. LED lights do not contain toxic chemicals such as mercury, like fluorescent bulbs do, and also requires very little electricity, unlike incandescent light bulbs. LED's can function for decades, and even when they start to fail, they don't just burn out like most conventional light bulbs; instead they slowly get dimmer and dimmer. LED's are also very efficient because they require less wattage than conventional light bulbs, as well as produce minimal heat. LED lights are by far the better option for lighting systems everywhere, as they are environmentally friendly, and they also emit a very beautiful and welcoming light.
The new LED lighting system surrounding the Statue of Liberty will definitely improve the view, help reduce energy consumption, and perhaps encourage further use of LED lights.