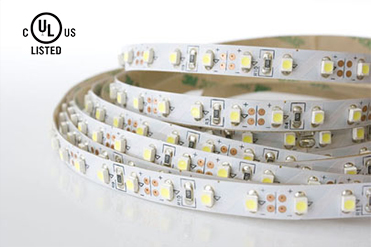 What is LED Tape?
LED tape is also commonly referred to as LED strips, LED strip lighting, or LED ribbon lighting. It is a thin, flexible, low profile, narrow strip of circuit board embedded with light emitting diodes (LED's). KLUS's premium quality LED strips have earned the UL certification for US and Canada, which means each product or group of products have been independently tested and have met the required product safety standards for North America.
How To Choose The Right LED Strip Light?
Light strips are available with different stats, ratings, sizes and specifications, depending on the purpose or use of the light.
Here are some of the specifications you might see on LED products, with an explanation
Color Temp – LED color temperature refers to the warmth or coolness of the light. It comes from the color of heated metal at different temperatures degrees in Kelvin. Colors range from warm soft orange and yellows to very bright cooler white to blue colors.

2700K to 3000K range, is the color of a standard incandescent light bulb. Perfect for most general indoor lighting applications.
3500K to 4100K, is more of a neutral white, that is often used for office or work spaces.
5000K to 6500K is a cool, crisp high intense white to blue light that is great for security, garages, or for commercial applications.

Watts Per Meter / Foot – Wattage on LED tape is measured per meter or per foot.
Number Of LED's Per Meter / Foot – The more LED's per meter or foot, the brighter the light strip will be.
Lumens Per Meter / Foot – A lumen is a measurement of visible light output. For reference, a 60w incandescent bulb produces about 800 lumens.
CRI Rating – CRI stands for Color Rendering Index. It is the measurement of how colors look under a light source when compared with sunlight. The index is measured from 0-100. A light source with a 90+ CRI score will show colors almost exactly the same as they would look with natural sunlight.
LED Chip Type – The different chip number are really the same LED, just different sizes.
Input Voltage – LEDs are designed to run on low voltage (12-24V), direct current electricity.
IP Rating – IP ratings indicate the level of environmental protection that the LED's outer casing provides. The first number specifies protection against solid objects, and the second number specifies protection against water elements. For example, an IP67 rating indicates that the light is protected against dust(6) and temporary immersion in water(7).
Operating Temperature – Indicates under which range of temperatures the light will operate efficiently.