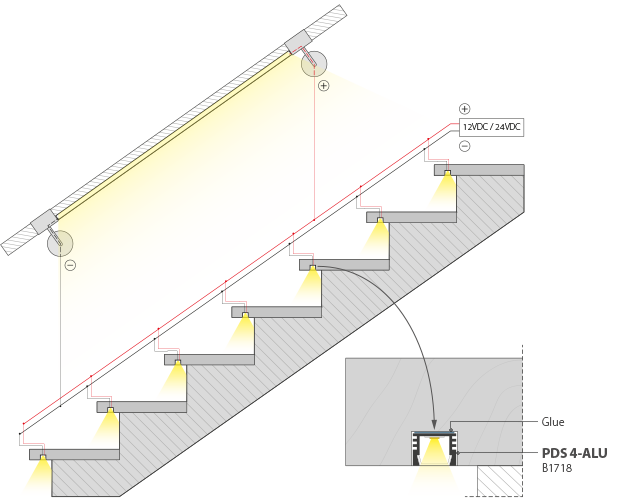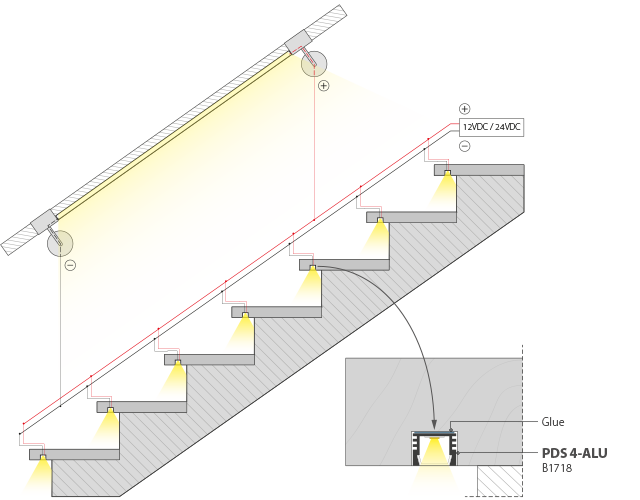 It wasn't too long ago that the best option for installing stair lighting involved large, clunky fixtures built into the wall next to the stairs. Those old fixtures had to be large to accommodate standard light bulbs, and had to be vented to allow the intense heat from the incandescent bulbs to escape.
Today, more and more designers, builders, and homeowners have switched to LED lighting for the entire house, but especially for areas like staircases where space for lighting is limited.
KLUS LED STAIR LIGHTING SOLUTIONS
KLUS offers a wide range of LED stair lighting solutions for your staircase lighting wants and needs. Our innovative STEP profile, for example, offers top and bottom LED stair illumination. Turn on the top LED to light the upper edge of each step or the bottom one to impart a soft glow on each step. These lights enhance the beauty of your staircase.
If you don't have a power outlet near your staircase, that's ok because we've got battery operated solutions made just for that reason. In addition, LED stair lights can be customized by using different colored LED's, dimmer switches, and even motion sensors. For that added special touch, you can even add lighting to the underside of the handrail!
Our LED stair light extrusions are made from high-quality double-anodized aluminum, have non-slip inserts, are extremely durable, and can be weather sealed for outdoor use.
For more information on how to purchase and install LED stair lights in your home or business, please give us a call, or contact on of our product representatives located in your area. (http://www.klusdesign.com/representatives).