LED stair lighting can prevent accidents while improving your home's overall style of decor. There are plenty of LED lighting styles to pick from, making it easy to select the LED stair lighting that will best suit your needs and budget.
Here are some tips to help you get started.
Recessed LED Lighting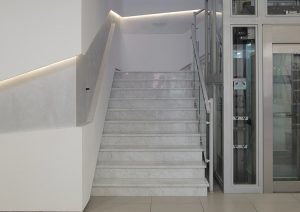 Recessed wall lights near the steps give the stairs a warm glow. They don't entirely light up the area, which means that you'll want a chandelier or wall lights near the stairs if you need bright light to see your way. Even so, wall recessed lights are ideal for wood, carpeted or stone stairs, and you can place the lights at varying angles to achieve the perfect look.
LED Stair Lighting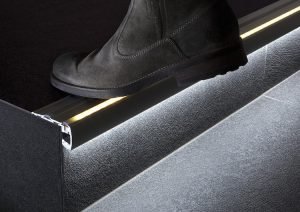 Will the stairs be used a lot at night? If so, you want to make sure your stair lights brighten up the area so no one gets hurt. Installing LED strips on each step is a good way to ensure the steps are highly visible even if all the other lights are off. LED stair lighting provides a beautiful glow; and fortunately, LED extrusions have made what was previously difficult to install, as easy as ever.
Handrail LED Lighting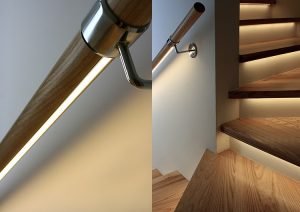 Handrail lighting is also a good option. It can be used in conjunction with other forms of stair lighting and it's easy to install. The LED tape or light source can be housed in an aluminum waterproof extrusions to allow for outdoor use and they can be configured to direct light at a particular angle to enhance the ambiance of any indoor or outdoor area.
LED Backlighting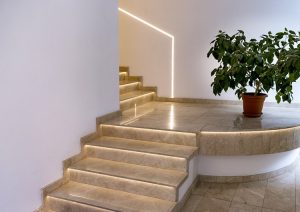 If your stairs are made from stone or thin-cut wood, backlighting is an ideal option. It takes a bit of work to set up light fixtures under the steps but the finished result is more than worth the effort. The look is elegant and modern and is sure to impress anyone who comes to your home. As an added benefit, backlighting the steps provides ample light to see your way around at night.
Contour LED Strips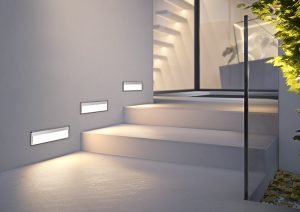 Contoured LED strips are meant to be set up on either side of the steps. You can choose bright, vibrant colors to light up a room that is meant to have a fun, boisterous atmosphere. Alternatively, you can choose white strips to create a calm, soothing atmosphere. Contoured LED strips can be configured to provide the perfect amount of light that will help enhance your home's ambiance.
When it comes to LED stair lighting, there is no one "right" or "wrong" choice. However, some options may be more suitable for your home than others. Consider practical points, aesthetics, cost, and ease of installation when selecting lighting for your stairs to ensure you've chosen a form of lighting that complements your existing home decor while making it safer to get around in the evening and at night.