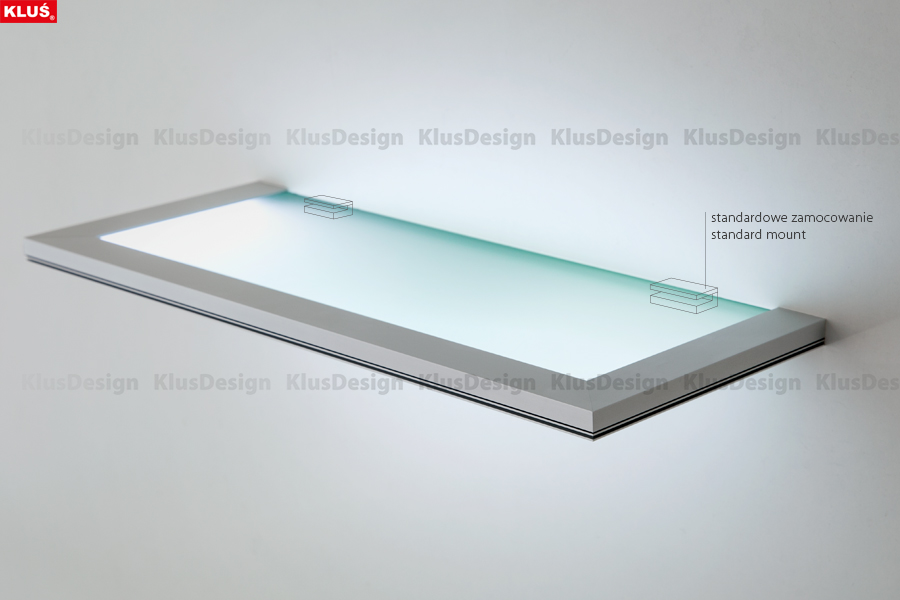 Flexibility is one of the many benefits of LED lighting. LED's can illuminate areas or items in ways that are simply not possible using older lighting technologies. A perfect example of this is using LED's to illuminate glass panes or plastics. One of the newest designs offered by KLUS, is the KRAV 810 LED extrusion. This LED extrusion is perfect for lighting signs, inscriptions, logos, or for making edge back-lit fixtures for kitchens or other living spaces. Edge backlighting extrusions are also perfectly suited for use in galleries or museums.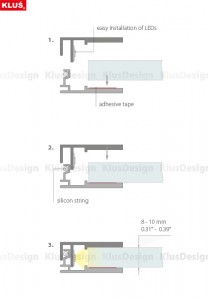 The new KRAV LED extrusion is made from high quality, double-anodized aluminum and designed for flexible or rigid LED strips of a width not exceeding 6 mm (KRAV-56 with 5mm thick glass), 8 mm (KRAV-56 with 6mm thick glass) or 10,8 mm (KRAV-810). Thanks to its unique shape, it is ideal for edge lighting of glass panes or plastics 5-6 mm (KRAV-56) or 8-10 mm (KRAV-810) thick.
It consists of two extrusions, KRAV-D (adapted for the mounting of LED strips) and KRAV-Z (closing extrusion) fitted with double-sided mounting tape and a silicone cord ensuring a good connection of the extrusions after they have been mounted. Clamping of the glass or plastic is achieved by mounting the two extrusions to the glass and pressing them in an even manner.
Note* – The KRAV extrusion is not a construction profile. Therefore, assembly, suspension or other technical activities related to the panels should be performed using standard elements.