The KLUS MOD-50 LED lighting fixture provides the possibility of obtaining a glare rating of UGR 19 or less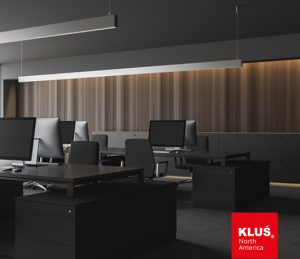 Vero Beach, FL, USA – May 5, 2020 — KLUS Design is a manufacturer of LED lighting extrusion designs and component systems that integrate flexible LED lights into everyday living and workspaces.
Having light with a low glare rating or UGR, (UNIFIED GLARE RATING), is an important consideration especially for office spaces where workers spend hours a day at their desks or in front of computer screens. Working in an environment with high levels of illumination glare is not only uncomfortable but can also cause health and safety concerns.
KLUS is pleased to announce that they have released the MOD-50 LED lighting extrusion. When used with the JUN-50 prismatic cover, this LED lighting fixture offers the possibility to achieve an effective, efficient light, with a UGR rating of 19 or below. (The facility room size, ceiling height, and surface colors/materials all contribute to the UGR Rating.)
The MOD-50 also features an open style structure of the mounting channel so that the control elements and power supplies can be stored in the fixture itself. This eliminates unsightly inspection opening in ceilings and allows the fixtures to be placed "wall to wall". It can be removed and remounted without damaging the ceiling.
Visit Klusdesign.com for more information about the KLUS MOD-50 LED Lighting Extrusion
Contact Info:
Name: Zofia Stebnicki
Email: Send Email
Organization: KLUS LLC
Address: 673 US Highway 1 Vero Beach, FL 32962
Phone: 772-321-2260
Website: https://klusdesign.com