KLUS Design is pleased to announce that they will be showcasing and demonstrating their LED lighting systems at the Denver and Seattle 2018 LED Specifier Summit Events in September.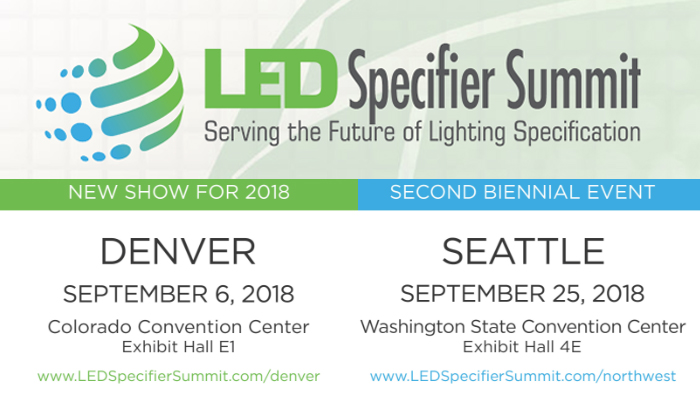 Vero Beach, FL, USA – August 23, 2018 — KLUS Design is one of the world's leading producers of quality aluminum LED lighting extrusion designs and component systems that integrate flexible LED lights into everyday living spaces. As a leader in the LED technology industry, the KLUS team travels all over the world to showcase these unique, beautiful, and highly functional designs.
KLUS is pleased to announce, that this year they will be participating in the 2018 LED Specifier Summit events.
There are two events; the first being held on September 6th in Denver, at the Colorado Convention Center, and the second on September 25th in Seattle, at the WA State Convention Center. The first conference session for both events starts at 8:00 am.
The LED Specifier Summit includes seminars, panel discussions, and hands-on product demonstrations for architects, designers, engineers, contractors, and other lighting professionals to see the newest lighting products from the world's top manufacturers. Each location will be covering various different topics in regard to light.
The Seattle event will be featuring seminars focused on topics such as deepened studies on the sleep/light connection and the future of the lighting market, and workshops about dynamic beam shaping and lighting in virtual reality.
The Denver event will have seminars on the importance of the light spectrum and other similar topics, and will also be featuring a SPARK session, which is partnered with WILD, or Women in Lighting Design.
Zofia Stebnicki, the KLUS marketing director, stated, "This event is the perfect opportunity for all those in the lighting industry to learn and grow from each other. We are so excited to connect with hundreds of lighting professionals, and to demonstrate how our LED products can be integrated into their everyday living and workspaces."
To learn more about the LED Specifier Summit, visit https://www.ledspecifiersummit.com
Contact Info:
Name: Zofia Stebnicki
Organization: KLUS LLC
Address: 673 US Highway 1 Vero Beach, FL 32962
Phone: 772 321 2260
Website: http://www.klusdesign.com
[/fusion_text][/fusion_builder_column][/fusion_builder_row][/fusion_builder_container]