If you need to add more light to any interior space, without adding a big bulky light fixture, check out our TRIADA LED profile.   This profile is bright enough for commercial or industrial applications where lots of bright light is needed or required, yet it is small enough to be used for more delicate lighting applications such as glass cases, under cabinets, or decoration lighting.
This high quality, double-anodized aluminum LED extension features a three channel housing that fits any LED strip 8-12mm wide.   The TRIADA LED profile can be mounted to surfaces with the use of double-sided adhesive tape, mounting glue or screws which guarantee easy and secure mounting of the extrusion to almost any surface.
To power and suspend the TRIADA as seen in some of the above pics, use the DP-ZZ Fastener.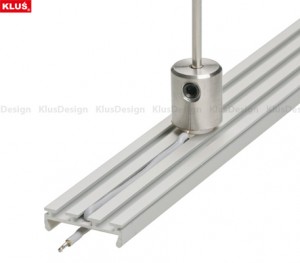 The TRIADA LED profile is also compatible with our motion sensor switches which allow the LED lights to be turned  "on" and "off" without the need of touching a switch.
To see full TRIADA LED Lighting Profile Specs – CLICK HERE
For information on how to order, please contact one of our representatives in your area: