Design Dilemma – KLUS Creative Solution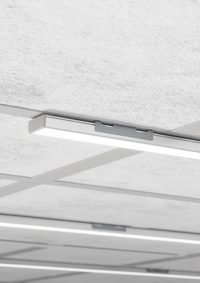 The dilemma:
The client is looking to modernize their office lighting while using the existing T-Grid drop ceiling in order to save on the retrofit expense. They would like to eliminate all of the standard 2×2 or 2×4 cavities and install a creative solution using a linear LED lighting solution.
KLUS has the answer:
Our AM-24 Mounting Clip allows one of our smaller scale extrusions, covers and tape combinations to be installed directly to the T-Grid. The clip easily snaps onto KLUS GIZA, GIZA-LL or LIPOD channels to provide a seamless and secure mounting method directly to the T-Grid. It is compatible with 15/16" ceiling grids.
For more information on the AM-24 mounting clip and many other unique KLUS LED lighting solutions, please visit www.Klusdesign.com.