What Is CRI? Is It Important for the Area I'm Trying to Light?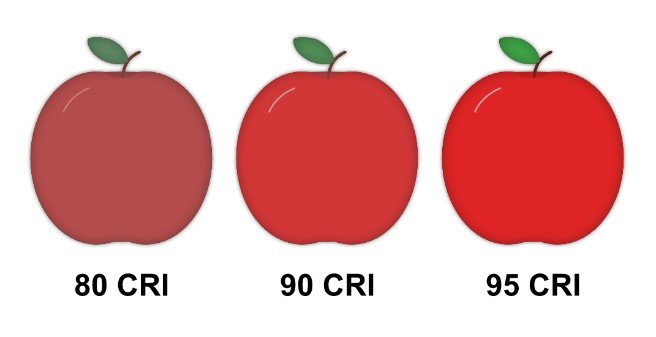 The color rendering index (CRI) is a way to measure the quality of light that is shining on objects in the room. This measurement is key in helping identify which light outputs will reproduce the colors around the area accurately. The benchmark for a CRI rating goes from 0-100; where a rating of 0 indicates that all colors look the same and a rating of 100 indicates that each color is distinctively different, or the true colors are shown. When you take a look at the sun which is our main source of light you get a CRI rating of 100. The sun is a natural source of light and will show the objects true colors when shining on it. This is the optimal rating that lighting tries to achieve. There are many sources of artificial lights such as LED lighting and this measurement will help you identify which light will give you the truest colors for the area you are trying to light.
There are defaults in the LED lighting industry regarding CRI rating and typically they fall at a CRI rating of 80, 90, or 95+. The CRI rating of the light that is being purchased is important if the most accurate color is desired, and we will go over the different CRI ratings to help you with your decision on which CRI rating is acceptable for the application you choose.
80 CRI
80 CRI has been the standard for a majority of lighting that comes from LEDs or fluorescent lamps. It has been the baseline for an extended period of time. However, when looking at this rating in more detail it can be seen there is a difficulty in lights with this rating distinguishing red in objects or that contain red components of any kind. When using lighting at this rating it is advised to light spaces with it that are typically not as viewed as much as let's say the kitchen. It dulls the colors around the area and can make the space feel washed out due to the absence of strong pigments being visible. The lower CRI models will also carry a greater lumen output for brightness.
90 CRI
90 CRI is a higher quality light source that is generally offered as a high end option for the designer. This allows for more vibrant reds to be shown and it looks much less washed out or dull than lighting with a level of 80 CRI. This CRI rating is most common amongst our KLUS product as we have this as a baseline for what we produce. KLUS currently only produces 90 CRI and above due to the truer colors that is shown from this rating. The 90+ area is used more in commercial spaces and heavily in displays when trying to attract the eye to products for marketing.
95 CRI
95 CRI is typically referred to as professional color quality due to how accurate the colors are portrayed from the light shining on the objects around them. When colors need to be as accurate as possible this is the CRI we would recommend. This is generally used for artwork or projects where the light needs to light the location to match natural light as close as possible. This CRI rating is much closer to natural light and is typically hard to notice the difference.
The 90+ and 95+ CRI products are widely used in markets that want to direct your eye or attract you to a product. Lighting that is inside of a cooler at a grocery chain, for example would greatly benefit from the higher CRI, providing vibrant colors and being more attractive to the consumer that is visiting the location. Lights in coolers or locations with food would also most likely require NSF certified lighting but this is another option that KLUS can easily provide.
If you would like to learn more about how to use KLUS LED lighting systems, please contact us at 772-321-2260, or one of our representatives in your area!