KLUS Design, a pioneer in developing LED profiles systems, showcased their newest products at the Light + Building show in Frankfurt Germany.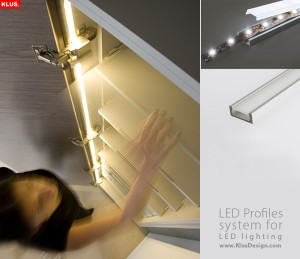 Vero Beach, FL,, U.S. – – May 12, 2014  — Recently the world's largest trade fair for lighting and building services technology was held in Frankfurt Germany. The show aptly named the Light + Building show takes place every two years and featured more than 2300 international manufacturers and vendors. During the five day show 210,000 plus visitors from 161 different countries made their way through the show, setting a new show record.
With each subsequent show, the global focus and concern over energy conservancy and innovation becomes more apparent. Since the last show two years ago, the market has really gravitated strongly toward LED lighting due to it's low energy consumption, bulb longevity and safe materials composition. Though compact fluorescent lights are able to achieve energy savings over incandescent bulbs, LEDs have been shown to achieve additional energy savings
KLUS Design, is a pioneer in developing LED profiles systems. During this show they introduced to the market new lighting solutions and innovative LED lighting systems.
KLUS representative Sophia Stebnicki commented " The KLUS Company is a production and design enterprise. We manufacture LED profiles designed to be mounted into elements for: interior design, architecture, furniture, scenography, advertisement, industrial design, exhibits and more". "Past shows have always been great, but this 2014 show was amazing. We demonstrated our latest products to thousands of visitors, more than ever before – the show was a huge success for us."
Those that missed the 2014 light + building show are not out of luck as they can visit KLUS Design online or contact them directly for their latest innovative offerings.
For more information about us, please visit http://www.klusdesign.com
Contact Info:
Name: Sophia Stebnicki
Organization: KLUS Design
Phone: 772 321 2260