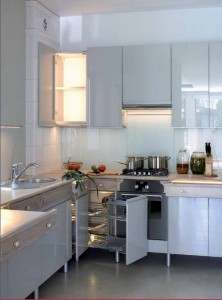 Lighting up home interiors with decorative yet functional LED lights is an integral part of interior décor. Living rooms and bed rooms are the spaces that often tend to get all the importance when it comes to sprucing up homes, with kitchens often left to battle the darkness with a couple of lights on the wall or ceiling. A well-lit kitchen not only makes the place warm and inviting, but also ensures that it is easier to clean food items properly and prepare them for cooking. Good LED kitchen lighting also helps keep track of the color of food throughout the cooking process, apart from making the place hygienic and safe.
Types of LED Kitchen Lighting
LED kitchen lighting often varies based on the type and extent of the kitchen space. Each functional zone of a spacious kitchen demands a different kind of lighting. Modular kitchens with work cabinets need sufficient lights both above and below the cabinets to make the space usable, while conventional kitchens may do with an assortment wall or ceiling LED kitchen lighting fixtures to liven the space.
Cabinet Lighting
Cabinet lighting is used to light spaces above, below and even within the cabinets to make the space comfortable and functional. Bright lights bars, powerful strip lights or dimmable LED puck lights are common options available, and the choice depends on the kitchen interiors.
Task Lighting
Counter tops, sinks and cooking equipment, food bars, and the dining area is highlighted with appropriate LED kitchen lighting needed for the job. LED down lights from the ceiling or adjacent walls usually wash the select area with a powerful yet soothing stream of light. Pantry spaces are covered using LED strip lights, light bars or puck lights for ease of use.
Ambience Lighting
Ambience lighting enhances the general décor of the kitchen, recessed ceiling lights commonly used to flood the space with the muted light needed to avoid any shadows.
Toe Kicks
Lighting kitchen floors are equally important to help make the space both clean and safe. Sturdy LED light strips often running along the cabinet edges enhance both the aesthetics and usability of the space.
Why opt for LED kitchen lighting?
Available in several models, ranging from down lights, recessed lights LED strips and bars, dimmable LED puck lights, to pendant lights and rope lights to suit specific needs.
Do not generate any heat and are energy efficient.
Enhance the décor of the otherwise drab kitchen space.