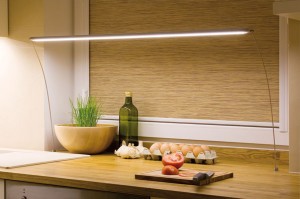 LED fixtures are the newest innovation in home lighting. They provide the brilliance of concentrated light, in whatever form you desire. The leading manufacturer and distributor of LED fixtures and accessories is KLUS. They offer a wide range of products to suit every need, and even encourage customization in order to make every customer as happy with their product as the company is to be making it. KLUS offers four main categories of LED products:  Extrusions, accessories, lamps and LED strips.
LED extrusions are, basically, a connection between the light source and the application area. They are aluminum tubes that house the LED strips, and provide stability and ease of use. They can be installed on the underside of handrails, on stairs, walls, and can also be used either inside or outside. They are designed to be sleek and waterproof, and can be cut to any length desired; making them fully customizable to your needs.
LED accessories consist, mainly, of end caps, covers and fasteners and Micro switch. LED lights are unlike typical light bulbs, they require a different range of components to be properly installed, and have confounded electricians and designers in the past. Today, due to the popularity spike in efficiency, as well as the efforts of KLUS, they are much easier to install, even for do-it-yourselfers. KLUS offers everything one would need to install one of these energy efficient light strips anywhere you may want to put one.
LED light fixtures, or lamps, appear almost like fluorescent lights. They are very bright, and are best used, in the home, in an indirect manner. KLUS offers fully customizable options for every buyer. They carry products in four categories:  Suspended lamps, wall scones, desk or table lamps, and micro-lamps. Whatever your need, whatever the design of the home calls for, KLUS has a product that is either already perfect or can be made perfect.
LED fixtures may be more expensive than more traditional lighting options, but they last much longer and offer a wider range of uses. They are also far more energy efficient, and typically provide a brighter, cleaner light. KLUS offers a wide range of products; from extrusions to LED lighting strips. With their fully customizable designs, and one-stop shopping for all things LED, they are the premier source for LED lighting around the world.