Kitchen cabinet LED lighting systems provide innovative, beautiful, and practical applications.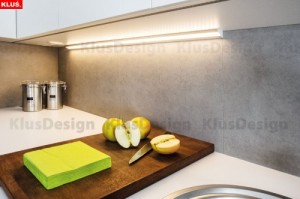 Vero Beach, FL , USA – November 17, 2014 — How is it possible to improve the look of a kitchen and at the same time get a better look at what's in a kitchen? The answer is under cabinet LED kitchen lighting, one of the most affordable, yet dramatic improvements that can be made to any kitchen space. Kitchen cabinet LED lighting systems provide innovative, beautiful, and practical applications.
Klus Design, a manufacturer of high quality LED lighting accessories, has recently added to the options available to homeowners for under counter kitchen lighting. This past week they released the under cabinet LOC-30 LED extrusion. The LOC-30 angle LED extrusion is designed to be mounted in places where surfaces are connected at right angles e.g. under kitchen cabinets – at the junction of the wall surface and the bottom of the cabinets, under shelves, in the corner formed by the contact of the wall and the frame of the display window, etc. To see the actual product, please visit the following product page: http://www.klusdesign.com/products/show/479
Improving on previous under counter kitchen lighting LED profiles, the LOC-30, provides a longer side mount to areas like the lower rims of cupboards, which directs the beam of light down at the angle of 30 degrees, for better illumination of the surface of the kitchen counter top. The extrusion can be mounted on the surface both on its longer or shorter edge, which allows two different light distribution angles. This flexibility along with easy installation, make it perfect for lighting under cabinets, bars and shop displays. It is ideal for the kitchen because it can accept two LED strips inside the extrusion, allowing it to emit a powerfully bright, yet energy efficient lighting solution.
Technical specifications.
Ingress Protection Rating: IP 20
Available lengths: 1 m to 2 m (can be cut to any size)
Material body: aluminum, cover – polycarbonate (PC), end cap – polypropylene (PP), clip – polyoxymethylene (POM)
LOC-30 profile consists of the set of two profiles: LIPAC-30 mounting profile and OPAC-30 – profile/fixture for LED.
For more information about us, please visit http://www.klusdesign.com
Contact Info:
Name: Sophia Stebnicki
Organization: KLUS, LLC
Address: 2501 27th Ave, Suite F-10 Vero Beach, FL 32960
Phone: 772-321-2260