Turn an ordinary staircase into a beautiful focal point of any home or business.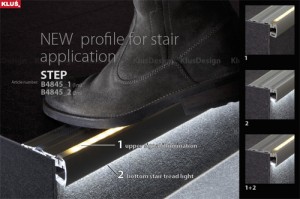 LED Stair LightingVero Beach, FL,, U.S.A. – – September 24, 2014 — When it comes to home remodeling, or new home design ideas, stairs aren't usually high on the list of considerations. However, with the right design, any staircase can be transformed from simply ordinary to an elegant and unique centerpiece of a home or business.
One affordable way to make that transition from ordinary to amazing, is by adding LED stair lighting. LED stair lighting is something that KLUS Design, a manufacturer of LED profiles, accessories, and fixtures, is excited about.
Marketing Manager for the U.S. Sophia Stebnicki, recently announced their new line of LED profiles for stair applications. "There is nothing quite like our new line LED stair profiles. These profiles allow lighting on both the top and bottom of the stair edge, an anti-slip rubber strip, and an LED lighting strip that runs underneath the stair railing. The end product offers both amazing beauty and increased safety."
These patented stair LED lighting profiles are affordable and available from distributors located all over the United States. Check http://www.klusdesign.com/representatives for more information.
When building or remodeling a home or office,it is not difficult to go beyond the ordinary basic staircase most people have. Spend a little more time on the design, get creative, incorporate some LED lighting, and the end result may be a jaw dropping experience that any home or business owner will be proud of.
For more information about us, please visit http://www.klusdesign.com
Contact Info:
Name: Sophia Stebnicki
Organization: KLUS, LLC
Address: 2501 27th Ave, Suite F-10 Vero Beach, FL 32960