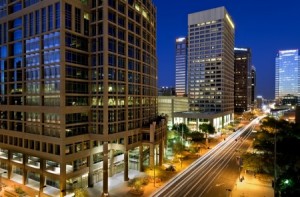 Phoenix, AZ has begun a street light project that involves that conversion of 700 high-pressure sodium (HPS) lights to LEDs. The city is projecting 60% energy savings from the retrofit and plans to convert all 95,000 legacy fixtures in the city by 2020.
Phoenix performed significant field testing to make sure the LED's would hold up to the extremely hot temperatures in that area. After testing and evaluation, the city along with  Arizona Public Services, chose the GE Evolve LED lights as their standard.
"These LED's will be installed anywhere a fixture needs to be replaced or where new construction and capital improvements occur," said Jason Fernandez, principal engineer technician with the Phoenix Street Transportation Department. "Additionally, with the energy and cost savings we experience from each new fixture, we're putting that money toward our investment for more LED street lights."
That initial phase will deliver $57,000 annually in energy savings and $41,000 annually in maintenance savings. The city projects 11 years of maintenance-free usage based on 12-hour days and the 50,000-hour expected lifetime.
Ultimately, Phoenix plans to install LED lighting along 4800 miles of roadway by 2020. The project will encompass 95,000 LED fixtures.