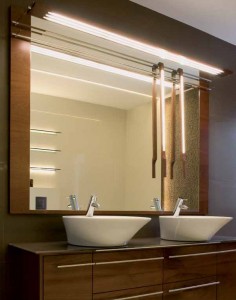 Many people have encountered LED lights in at least one form; usually in Christmas lights, computer electronics or solar powered garden lights. However, nowadays, not everyone is aware of the fact that LED home lighting is both available, and undoubtedly the future of household lighting. With over 30 years of experience, we at Klus are an industry leading manufacturer of LED lighting strips and linear fixtures.
Essentially, the difference between LED lights and conventional incandescent light bulbs is that the latter wastes as much as 98% of the supplied electricity as heat and shines light in every direction. By contrast, LED home lighting converts almost all of its supplied electricity into focused directional light, which is why it remains much cooler to the touch.
Another big difference is the ownership cost. LED home lighting lasts for an amazingly long time (for over 3 decades of regular usage) and costs such a small amount to operate that the electricity cost savings, over the lifespan of a bulb, will dwarf the bulb's price. This contrasts significantly with standard non LED bulbs, which cost more than 500 times the price of the bulbs themselves, in replacement and operating costs.
These specific attributes (high efficiency, focused light and no fire risk) make LED home lighting an ideal substitute for spot lighting. This is particularly true for the halogen lamps found in lots of homes, because these waste an abundance of money and heat. Nonetheless, the task of replacing halogen lamps in the home is just 1 element of spot lighting suitable for LED lamps, as they make perfect display lights too. Even better, they can be installed in locations where you could not even consider using normal incandescent spot lights, due to the fire and damage risks from the high operating temperatures of traditional lighting.
LED spot lighting is a natural option for illuminating shelves, display units, inside clostets and cupboards, stair lighting and under kitchen units. It is easy to install next to surfaces and objects, without any risk of causing heat damage. Over all, the versatility of LEDs gives superior lighting to the lighting provided by standard light bulbs.