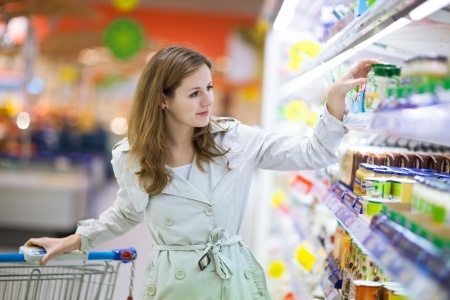 You might start seeing LED lighting every time you take a trip to the grocery store. LED lights fit perfectly in refrigerated display cases, and a number of companies in the US are utilizing LEDs in their refrigeration units. This saves on energy costs and is good for business for all involved. LED lighting is taking over, and before long these lights will become a part of all our daily lives.
Refrigeration units are a perfect fit for LED lighting. Part of this has to do with the way the LEDs diffuse the light. Traditional fluorescent tubing sends the light in all directions, while LED lighting can be diffused directionally. This means the products being displayed in these refrigeration units are more brightly lit and look much better while on display. Coloring is evened out, making food packaging look more appealing.
Additionally, LEDs work well in refrigerated units because they are not affected by extreme temperatures (hot or cold), and since LED lighting gives off very little heat, the refrigerators do not need to pump out as much cold air to maintain temperatures. Not only are companies saving on energy with the lights themselves, but the refrigeration units are also able to become more efficient.
Surprisingly, even the quality of the food is improved by using an LED refrigerated lighting system. Fluorescent lights can create hot spots, which in some cases can raise the temperature enough to partially thaw the food. Keeping refrigerated food at the highest possible quality helps the supermarkets as well as consumers. Less food is thrown away, and customers are far happier when they know their food is safe and well maintained.
Major companies are taking advantage of this lighting system. Walmart has made a goal to use only LED lighting in all their stores. Companies who switch to LED refrigerated units see the savings generated and tend to replace the rest of their lights as well.
The maintenance involved in keeping these lights working is far less than traditional fluorescent tubing. A typical fluorescent tube in a freezer unit needs to be replaced about every six months. LEDs can last 50,000 hours, which translates to about 5 years.
Expect to see LED lights used for more than just regular lighting. Refrigerated lighting helps everyone involved save. Consumers can enjoy food that has been more consistently maintained, grocery store owners can expect savings in energy and maintenance, and companies who manufacture these units can see an increase in sales. LED lighting taking over grocery stores will help everyone save.